Satisfied customers are the key to repeat purchases. Following this principle, we do not only develop and build reliable, robust systems, but also accompany them throughout their product life.
To ensure that these are not just empty phrases, Autolift has the necessary human resources and employs a service team made up of experienced back office employees and skilled service technicians. In order to cover a geographical area as large as possible, service technicians were hired in our key target markets. This means that they can travel to their locations from home and we prevent or reduce unnecessarily long journeys and response times.
The core competencies of our service department are:
Competent advice
You will receive fast, competent advice from our back office staff by e-mail or phone
On-site service by factory customer service
o Our well-equipped factory customer service technicians are always up to date and very familiar with our machines.
Service vehicles
We always have all common spare parts in stock in our service vehicles. We support you quickly and easily on site with extensive service and repair services.
Spare parts availability
o Autolift products are characterized by a very long service life. Since the need for spare parts usually increases with the age of the system, availability of spare parts up to the high "life cycle age" is essential.
Autolift guarantees spare parts availability for up to 30 years. And often longer.
The administrative processing is carried out by our experienced back office team.
Preventive maintenance
With preventive maintenance, downtimes can be reduced considerably.
Factory service arrives at pre-planned dates with the right spare and wear parts and carries out the maintenance work on schedule.
The system is handed back to the operator with the very high certainty that there will be no unplanned downtimes until the next maintenance date.
Annual reviews
Annual reviews are regulated differently from country to country. In Germany, for example, an annual inspection (UVV inspection) is required by law in the accident prevention regulations. Our technicians will be happy to carry out this for you. If it is combined with annual maintenance, your costs and downtimes are reduced.
Redesigns
A lot can happen and a lot can change during a product life of 20 years and more. Operators can be faced with the decision to sell or dispose of systems. Here, professionally carried out redesigns can represent a sensible and cost-effective alternative. Reasons for modifications can be:
A new / additional vehicle model with different lifting points must be lifted.
The existing train sets are being extended. That happens more and more often. More and more public transport providers are thus increasing their transport capacities.
For example, instead of an 8 system, a 12 or 16 system is required. We deliver additional jacks and integrate them into the existing control system.
The system must be brought up to the current security level due to legal regulations or at the request of the customer.
Refurbishment
Depending on the frequency of use, the attentiveness of the operator and the consistency of maintenance, systems come to the end of their service life after certain years of use. They can now be disposed of or refurbished. The system is brought back to the factory and dismantled. The steel components are sandblasted and the welds are subjected to a crack test. Then the parts are painted again and reassembled. Depending on the condition, the spindle, nuts, bearings, etc. are reused or replaced with new ones.
Assembly coordination / assembly teams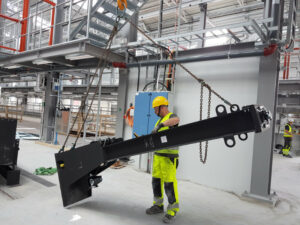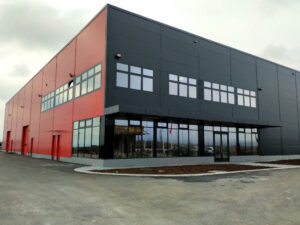 The installation of underfloor systems in particular should be well planned and prepared. This happens – sometimes already in the project phase – in our project department or through our technical sales department. But the planning can still be so good if the implementation is inadequate. That is why we have our own assembly teams who accompany the installation or carry it out on request.
These teams are well-rehearsed and often familiarize themselves with the systems during the Factory Acceptance Test (FAT). They are used to long-term, international assignments all over the world and can also improvise if necessary and solve problems that arise suddenly. Important is the handover to the end customer in time.